Upcoming Virtual Information Sessions
Please join us at one of our upcoming virtual information sessions for the Independent School Leadership program. Recent alumni and Carrie Grimes, assistant professor of the practice and director of the ISL program, will share a presentation about the program and the admissions process, and will also take questions. Please note the webinar times are Central Standard Time.
Wednesday, November 8, 6:30-7:30 pm CST 
Registration Link: https://apply.vanderbilt.edu/register/ISLInfoSession11.8
Tuesday, December 5, 6:30-7:30 pm CST
Registration Link: https://apply.vanderbilt.edu/register/ISLInfoSession12.5
Program Overview
Vanderbilt's Peabody College offers a blended (online and in-person) Master's of Education in Independent School Leadership. This M.Ed. program is specifically designed for working professionals who bring at least two years of relevant independent school work experience. The ISL graduate degree program will strengthen the invaluable skills you've already developed and give you the tools to propel yourself to new leadership opportunities and to even greater impact.
Our 15 month, part-time program consists of a diverse cohort of independent school professionals like you-leaders who are advancing in their careers and who bring important perspectives grounded in real-world challenges. Our program is a blended learning model conducted online throughout the school year and in-person through two 8-day, on-campus summer sessions, where you'll meet your cohort in person, work with world-class Vanderbilt faculty, and build community on our beautiful Nashville campus. Our online learning experience combines self-directed asynchronous curricula with weekly synchronous sessions at which cohort members build community and actively engage in discourse related to relevant theory and practice within independent school systems. 
This blended Master's of Education in Independent School Leadership offers a distinctive Peabody experience-including deep engagement and interaction with Vanderbilt's faculty and independent school scholar practitioners, as well as a lifelong professional network-within an intentionally designed curriculum and robust opportunities for mentorship and action research design. The program is career-embedded so you can immediately apply what you are learning, in real time, to the work you are doing on the ground in your independent school.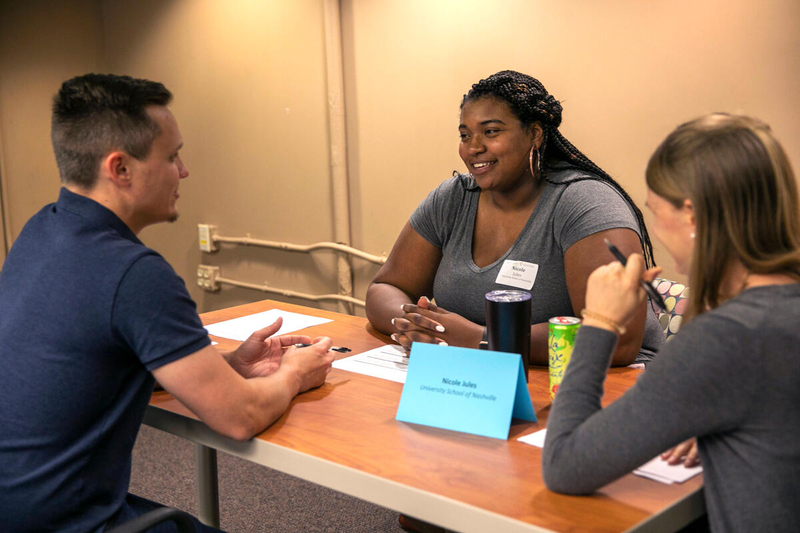 Program Facts
Program Director: Carrie Grimes
Admissions Coordinator: Rosie Moody
Admission Term: Summer
Credit Hours: 30
Priority Application Deadline: January 3*
*We welcome your application after January 3. Please do note that those received by the deadline receive priority consideration for admission and scholarships.

Program Curriculum
Our prescribed curriculum is designed to meet your professional needs. It is anchored in both foundational knowledge and core competencies of independent school leadership. You will also complete an action research project to advance your leadership and scholarship.  Thirty credits are required to graduate with Vanderbilt's M.Ed. degree in Independent School Leadership.
Curriculum Themes and Commitments
Themes

The ISL Curriculum is Centered around ten themes:

Leadership and Learning Independent Schools
Institutional Advancement in Independent Schools
Systematic Inquiry for School Leaders
Innovations in Learning
Organizational and Human Capital Development for Independent Schools
Independent School Finance, History and Governance
Admissions and Financial Aid for Independent Schools
Leadership and the Learning Spectrum
Social Emotional Learning and Well-being
Historic and Legal Dimension of Independent Schools

Students will engage will all themes through a series of online three-credit courses, in-person modules on campus, and a site-based action research project.  To help you manage, lead, and implement change in independent school systems, the ISL curriculum explores the core leadership competencies that you'll need to elevate your skills, knowledge, and expertise, wherever you are in your career. Throughout your coursework, you will strengthen your ability to:

Lead change and think strategically
Foster productive organizational conditions for all stakeholders
Navigate the intersection of theory and practice
Communicate effectively across school domains

On-campus experiences: Students will convene for two on-campus sessions each summer, at which you will be immersed in the Peabody community and connect with your cohort, faculty, and advisers. Summer sessions integrate four credit hours and eight days of coursework.

In-person convenings: In the fall and spring semester, students will convene for a weekend in Nashville for their action research coursework.

The ISL Program Time Commitment

Courses combine synchronous meetings and asynchronous work and assignments. Live or synchronous aspects of required courses will occur on weekdays for 90 minutes (Monday-Friday) between 6 and 9 p.m. ET, or on Saturday mornings. On average, this degree requires 12 to 14 hours of work per week, though the weekly commitment will vary by term, courses taken, and students' own work styles. Students can expect to spend approximately three hours per week in synchronous online class sessions with faculty members and classmates. The remaining hours will be spent working independently on asynchronous course materials, in self-scheduled small-group work with other students, or working on assignments and action research projects.

Weekly Time Commitment

To complete the blended M.Ed. in Independent School Leadership, students must complete 30 total credit hours of coursework over the fifteen-month program. Although the weekly time commitment varies by term, course, and student work style, the table below provides a snapshot of the estimated weekly time commitment students may experience during the fall and spring semesters, when they will typically take 7 credits, the equivalent of two courses and action research requirements.

SYNCHRONOUS COURSEWORK:

Includes live, scheduled sessions with faculty and cohort members.

3 HOURS

ASYNCHRONOUS COURSEWORK:

Self-paced asynchronous lessons, discussion posts, and other course-related work.

3 HOURS

ASSIGNMENTS:

Readings, projects, papers, action research, etc.

6-8 HOURS

TOTAL WEEKLY ESTIMATED HOURS DURING FALL AND SPRING SEMESTER

Hours reflect estimates, and vary by term, course, and student work style.

12-14 HOURS

Commitments

On-campus experiences: Students will convene for two on-campus sessions each summer, at which you will be immersed in the Peabody community and connect with your cohort, faculty, and advisers. Summer sessions integrate four credit hours and eight days of coursework.

In-person convenings: In the fall and spring semester, students will convene for a weekend in Nashville for their action research coursework.

The ISL Program Time Commitment

Courses combine synchronous meetings and asynchronous work and assignments. Live or synchronous aspects of required courses will occur on weekdays for 90 minutes (Monday-Friday) between 6 and 9 p.m. ET, or on Saturday mornings. On average, this degree requires 12 to 14 hours of work per week, though the weekly commitment will vary by term, courses taken, and students' own work styles. Students can expect to spend approximately three hours per week in synchronous online class sessions with faculty members and classmates. The remaining hours will be spent working independently on asynchronous course materials, in self-scheduled small-group work with other students, or working on assignments and action research projects.

Weekly Time Commitment

To complete the blended M.Ed. in Independent School Leadership, students must complete 30 total credit hours of coursework over the fifteen-month program. Although the weekly time commitment varies by term, course, and student work style, the table below provides a snapshot of the estimated weekly time commitment students may experience during the fall and spring semesters, when they will typically take 7 credits, the equivalent of two courses and action research requirements.

SYNCHRONOUS COURSEWORK:

Includes live, scheduled sessions with faculty and cohort members.

3 HOURS

ASYNCHRONOUS COURSEWORK:

Self-paced asynchronous lessons, discussion posts, and other course-related work.

3 HOURS

ASSIGNMENTS:

Readings, projects, papers, action research, etc.

6-8 HOURS

TOTAL WEEKLY ESTIMATED HOURS DURING FALL AND SPRING SEMESTER

Hours reflect estimates, and vary by term, course, and student work style.

12-14 HOURS